These images are taken from various previews, and will be sorted into the proper fashion gallery pages "eventually."
CoE (levels 93-95)
Handcrafted Chain

Mastercrafted Chain

Handcrafted Plate

Mastercrafted Plate

Handcrafted Woven, Cloth, Martial
(Druid leather, mage cloth, brawler leather)

Mastercrafted Woven, Cloth, Martial
(Druid leather, mage cloth, brawler leather)

ToV
The Tears of Veeshan expansion added level 90 essentials and advanced recipe books.
Advanced Armorer Volume 90 contains recipe for Eye of the Fearcreep, which is a head slot crafting headpiece. It is pictured below on Niami's head in the two symbol pictures.
Advanced Jeweler Volume 90 also contains recipes for two secondary/ranged symbol items, Symbol of Daarspire and Symbol of the Fearcreep.
| | |
| --- | --- |
| Symbol of the Daarspire | Symbol of the Fearcreep |
Tailor Essentials Volume 90 contains the recipe for the Gi of the Ashen Artisan, which is a crafting tunic. Advanced Tailor Volume 90 contains a statless cloak, Majestic Guild Cloak
Weaponsmith Essentials Volume 90 contains recipes for 5 house item greatswords
Mounted Ethereal Greatsword

Mounted Greatsword of Growth

Mounted Greatsword of the Flame

Mounted Greatsword of the Frost

Mounted Obsidian Greatsword

GU100
Game Update 100 saw the release of a new Zek storyline with new zones. Blood iron armor that dropped in these new Zek zones/instances could then be reworked by armorers and tailors into better versions. It was all a jumbled chaos that quickly seems to have fallen by the wayside, but here's what it looked like:
Cloth

Leather Invader's/Oppressor's

Leather Sentinel's/Tyrant's

Chain

Plate

Kunark Ascending
Crafted Twark (handcrafted) and Bloody Tooth (mastercrafted) gear fashions:
Crafted Armor Appearances - plate, chain, monk leather, female then male other leather, cloth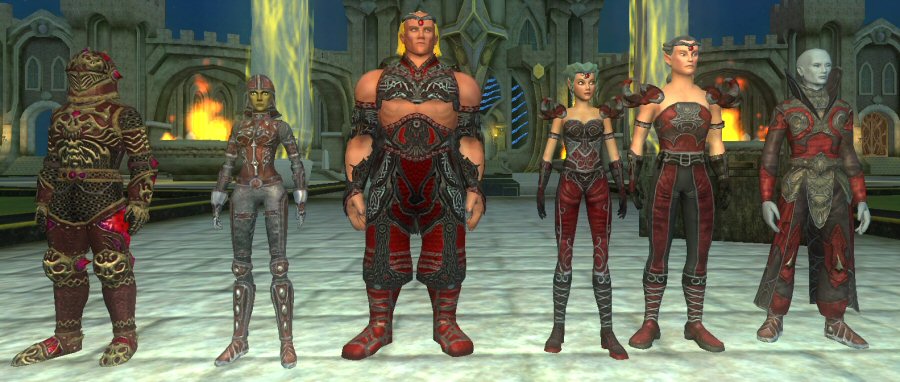 Crafted Armor Appearances Back View - cloth, male and female leather, monk leather, chain, plate

Utterly missing from my site at the moment are images pertaining to AoD (due to a server crash back then eating the preview), GU63 (Wakening Lands recipes), AoM armor and ToT armor. I'll work on those as I can.
Created: 2006-06-08 01:33:43
Last Modified By: Niami Denmother
Last Modified on: 2017-10-04 02:39:59
---
© 2003-21 Niami Denmother.
The fine print. This is a research and information site. All of the information on this site has been gathered and submitted by the players and Niami Denmother. While we try our best to keep the information here as accurate and up to date as possible, rely upon it at your own risk. By submitting information and graphics to this site, you are granting us permission to use the materials in any way that we deem appropriate. EverQuest is a registered trademark of Darkpaw Games LLC. Except as is disclosed on the "about" page, this site has no official connection with EverQuest or Darkpaw Games LLC. All information, articles and graphics on this site are the copyright of EQ Traders Corner, its owners and/or Darkpaw Games LLC and may not be copied or reprinted without the express written approval of the copyright holder. This site is not meant to represent official EverQuest (Darkpaw Games) policy, and we are not responsible for errors and/or omissions that occur due to changes in EverQuest trade skills or information that we recieved from the community that is in error.
Hosted By: