There will be a few new items for the city festivals starting with the May 2018 Freeport city festival (May 1-7). Look for 2 new house items and one new appearance armor crate on the Local Specialties merchant, Chris Weathers. (There will be 2 new house items per city, and one new armor crate per city, according to the announcement post.)
Freeport New Offerings
The new furniture pieces each cost two city tokens per. The armor crate costs 20 city fest tokens. (Currently the armor crate is heirloom and the unpacked armor is no-trade. The armor will be changed to heirloom during the May 1 patch.)
| | |
| --- | --- |
| Black Marble Fire Pit | Worn Freeport New Combine Banner |
Freeport Combine Leather Armor Crate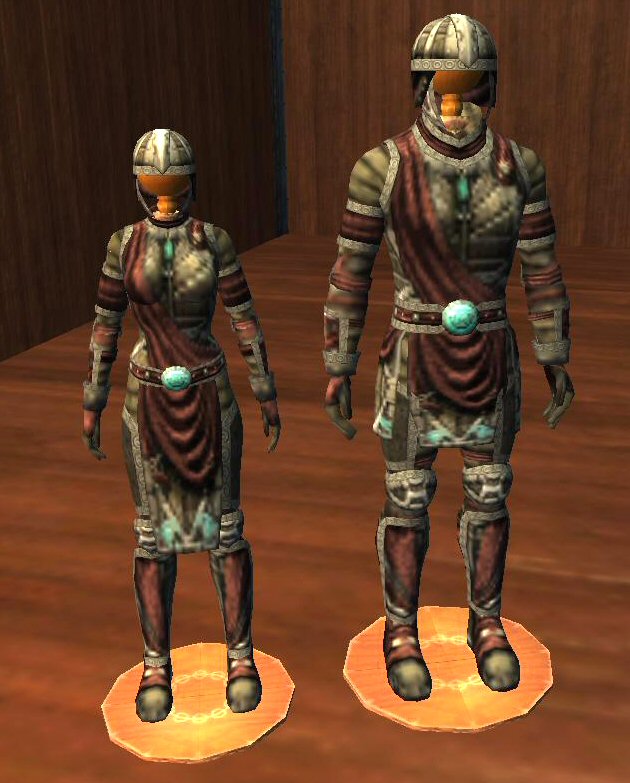 How About a Closer Look?
Do you have questions about sizing? Want to see the bottom of that firepit? Ocarinah has a quick video preview for you!
What About the Other Cities?
The other cities will also be getting banners, firepits and armor. This shot from Daybreak is the only look we have at these right now.
Created: 2018-04-25 03:08:05
Last Modified By: Niami Denmother
Last Modified on: 2018-05-01 01:23:37
---
© 2003-21 Niami Denmother.
The fine print. This is a research and information site. All of the information on this site has been gathered and submitted by the players and Niami Denmother. While we try our best to keep the information here as accurate and up to date as possible, rely upon it at your own risk. By submitting information and graphics to this site, you are granting us permission to use the materials in any way that we deem appropriate. EverQuest is a registered trademark of Darkpaw Games LLC. Except as is disclosed on the "about" page, this site has no official connection with EverQuest or Darkpaw Games LLC. All information, articles and graphics on this site are the copyright of EQ Traders Corner, its owners and/or Darkpaw Games LLC and may not be copied or reprinted without the express written approval of the copyright holder. This site is not meant to represent official EverQuest (Darkpaw Games) policy, and we are not responsible for errors and/or omissions that occur due to changes in EverQuest trade skills or information that we recieved from the community that is in error.
Hosted By: