Love is in the Norrathian air once again as the beings of the world celebrate the holiday of the goddess of Love, Erollisi Marr.
This event will run from 12:01 a.m. Pacific on February 10, 2021 through 11:59 p.m. Pacific on February 26, 2021 on all Live servers as well as on the TLE server. (The only difference between the live server event and the TLE version this year will be that the TLE server will get a plushie version of the dragon familiar from the Public Quest in the Commonlands.) This event was originally scheduled to end the 23rd, but has been extended to the 26th due to a fix for "What's Love Got To Do With It?" that doesn't go in until the 23rd.
In addition to all the returning quests and recipe books this year, there will be several new things to look forward to - one new recipe book, eight new buyable items, one new quest, one new achievement, and two new reward items from the Public Quest.
Are You New?
If you're familiar with Erollisi Day, you can skip this section. :D
Various mobs around Norrath will drop love notes or hard candies. Generally, this tends to be mostly humanoid-type mobs, such as would be likely to have Lore and Legend quests, though there are a few odd ones, like shik'nar, that you wouldn't traditionally think of as intelligent. :D Additionally, a pack pony that has been upgraded via A Gathering Obsession Beyond the Grave" can bring back 100 mixed love notes and hard candies per 2-hour run.
The vendors for the event can be found in Qeynos Harbor and in East Freeport. In both cases, they are outside the building housing the city's mercenaries, and the NPCs in both cities have the same names.
The notes and hard candies can be: 1) used as-is as the primary ingredient in the holiday crafting recipes, 2) traded in to Heartgar MacInnes (Qeynos Harbor & East Freeport) for barbarian love notes, so they all can stack together for easier depot storage, 3) traded to Liannya Heartswell (also in Qeynos Harbor and East Freeport) to convert them to Erollisi Coins. Once they are converted to coins, they cannot be converted back to love notes, so make sure you're not mass-converting your entire stash into coins when you wanted to set some aside for crafting. Bank/depot the ones you want to craft with before you convert the desired number into coins.
The coins can then be spent at the two vendors, Douglas and Steven. (Imagine that, they are also in Qeynos Harbor and East Freeport!) While I am only presenting information on this year's new buyables, not the other offerings on the vendors, there are lots of lovely goodies from past years on them as well.
The wiki article contains more information on the various quests, collections, etc. and is a good guide for the overall event when paired with the quest tracker linked down near the bottom of the page.
New Crafted
Steven, the merchant in Qeynos Harbor and East Freeport, is now selling the recipe scroll "Romantic Gifts to Craft XIV". These recipes will require "love loot" (love notes or hard candy from intelligent mobs, or from your upgraded pack pony) as well as tier 1 commons. Each combine will yield a quantity of 2.
Bottled Ardor

Bottled of Tearfall White Wine

Curved Faydark Marble Bench

Faydark Marble Candleholder

Faydark Marble Octagonal Table

Full Lovelace Oak

Lovelace Oak

Paramour's Woven Circular Rug

Paramour's Woven Runner

Violet Stucco Block Set

New Buyables
Douglas, found beside Steven in Qeynos Harbor and East Freeport, carries not only returning buyables, but has eight new items premiering in this year's event. These items all cost Erollisi Coin, which can be obtained from the nearby Liannya Heartswell in return for love notes and hard candies.
Bow of the Huntress Statue*
30 coins

Djinn Sentry Illusion
2 coins

Falling Rose Petals*
10 coins

Flirtatious Red Rug

Midday Lovebird*
20 coins

Red Ribbon Mum Plushie
5 coins

Enamored Hart Antlers* (10 coins)
Supple Rose Leather Armor Crate (30 coins)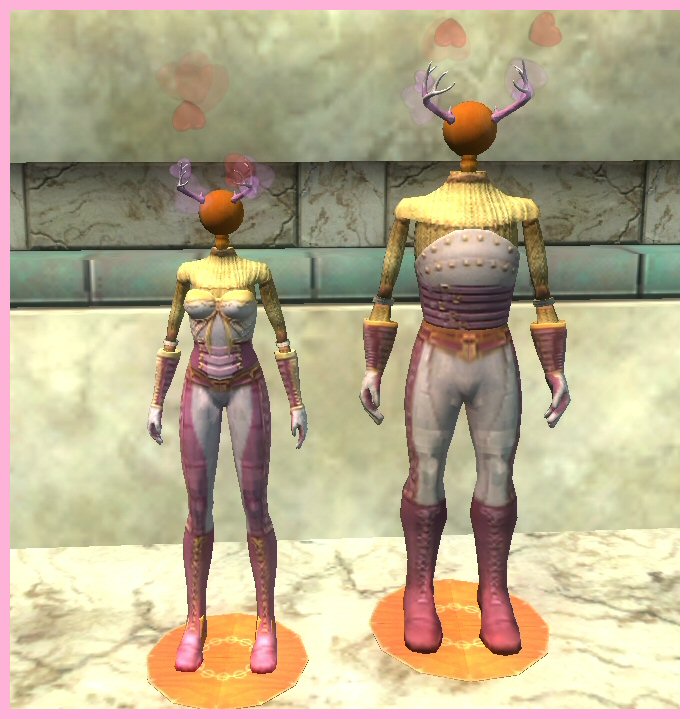 *Notes:
Falling Rose Petals cannot be resized. When placed in house or guildhall, a falling rose petal effect occurs above/around the flower.
Bow of the Huntress Statue, Midday Lovebird and Enamored Hart Antlers all have animated effects.
Flirtatious Red Rug forces any who stand upon it to loop the /flirt emote until they step off the rug.
But, but, why are you searching for the eyeball bleach? Ogresses need love too!
New Quest
Poor Kherix Taaj'de at the Gorowyn docks bar in Timorous Deep is having a romance problem in the "Heartbreaker" quest. Completion of this quest will reward you with 5 Erollisi coin and your choice of either four copper kiss blooms or a treacherous hag plushie.
| | |
| --- | --- |
| Copper Kiss Blooms | Treacherous Hag Plushie |
New Achievement
The Shadow of Love achievement has been added this year for collecting specific love notes and hard candies that can be found in the Reign of Shadows zone. As with the other love loot achievements, some of the notes can be found in other zones as well, and you can loot them from anywhere you can get them to drop in order to gain an update for the achievement. You will earn the suffix title: "the Ebon Heart" for looting all of the following:
akheva hard candy
tegi love note
shadel love note
akhessar love note
shroomba love note
grimling hard candy
loda kai love note
zelmie hard candy
Updated Quest
The "Love Will Lead You Back" Public Quest in the Commonlands has had two new rewards added: Huckleberry Zelniak Calf Clothwork Plushie and the Petamorph Wand: Sweet Cherry Zelniak Calf Clothwork. In addition to these added items, it should again be noted that the TLE server will not get the Carina Cuddleblaze familiar from this PQ, but instead will be granted a fluff pet spell scroll of Carina Cuddleblaze.
Huckleberry Zelniak Calf Clothwork Plushie

Petamorph Wand: Sweet Cherry
Zelniak Calf Clothwork

Quest Tracker?
Casdoe from Maj'Dul has already updated her quest tracker with the new goodies from this year. Snag it in XLS or PDF form if you need to keep track of lots of alts.
Videos?
Ocarinah was also done with the video preview before I even was home to start on my part, and has a lovely item preview for us. As always, thank you SO much for doing this!
Created: 2021-02-04 06:02:01
Last Modified By: Niami Denmother
Last Modified on: 2021-02-22 09:53:13
---
© 2003-21 Niami Denmother.
The fine print. This is a research and information site. All of the information on this site has been gathered and submitted by the players and Niami Denmother. While we try our best to keep the information here as accurate and up to date as possible, rely upon it at your own risk. By submitting information and graphics to this site, you are granting us permission to use the materials in any way that we deem appropriate. EverQuest is a registered trademark of Darkpaw Games LLC. Except as is disclosed on the "about" page, this site has no official connection with EverQuest or Darkpaw Games LLC. All information, articles and graphics on this site are the copyright of EQ Traders Corner, its owners and/or Darkpaw Games LLC and may not be copied or reprinted without the express written approval of the copyright holder. This site is not meant to represent official EverQuest (Darkpaw Games) policy, and we are not responsible for errors and/or omissions that occur due to changes in EverQuest trade skills or information that we recieved from the community that is in error.
Hosted By: