Welcome to the hidden Hua'Mein Village, traveler! If you have actually found your way into this quiet little area, it means that you have completed a certain amount of either the adventurer or crafter storyline arc for the expansion and been awarded Jintu's Gift. (Or that you've gotten creative in dodging the guards who kick out anyone who doesn't have the proper faction!)
This little item can be used by crafters and adventurers alike, and is the only way into this hidden little village. The furry residents go to great pains to make sure that the locals aren't aware of their existence!
Once you've earned access to the area, you will find that they are mostly craftsmen, and all of the crafting-specific items (recipe books) are aimed at the craftsmen. Daily crafting tasks from the area will vary between ones that any classes can do and ones that only craftsmen can complete. Non-craftsmen still may find it worthwhile to sift through the daily tasks and faction here, if they fall in love with any of the faction furniture that is available!
Faction Requirements
Level 80-89 Advanced Craftsman books (Carpenter, Provisioner, Woodworker) are no-trade and require 10K Hua Mein Craftsmen faction. Carpentry Secrets of the Hua Mein, Woodworking Secrets of the Hua Mein, Provisioning Infusions of the Hua Mein, and Provisioning Reductions of the Hua Mein are all level 85, no-trade and require 40K faction with the Hua Mein Craftsmen. Other than the two marked items at the bottom, the below faction furniture can be purchased with either 30K Hua Mein, or 30K Hua Mein Craftsmen faction.
Whoops! (Scroll down a bit past this placeholder listing for some images!)
hua mein bed

hua mein brazier

hua mein chair

hua mein covered basket

hua mein fish basket

hua mein totem

hua mein inkwell

hua mein low table

hua mein potion sack

a bamboo plant#

hua mein traveler statue 2*

hua mein gilt banner*

Hua Mein Artisan
added Dec. 7, 2010

#= requires 10K of either faction
*= requires 40K of either faction
Illusions?
The four illusion items all require 40K faction with either Hua Mein or Hua Mein Craftsmen. They are statless equippable level 80 (adventurer) weapons with class restrictions tied to them as follows:
Katana of the Hua Mein Warrior: Fighters, Scouts, Fury, Warden
Mace of the Hua Mein Monk: Fighters, Mages, Priests
Sai of the Hua Mein Adventurer: Fighters, Mages, Scouts
Staff of the Hua Mein Wanderer: Fighters, Priests (shown below)
---
It seems that I got ahead of myself a bit on this guide, and the icons aren't part of the 500+ expansion images that poor Kaisha has already flung my way. I do, however, have the size comparison images from her, so you have something to drool over for eye-candy on the page! :D

hua mein bed

hua mein brazier

hua mein chair

hua mein covered basket

hua mein fish basket

hua mein totem

hua mein inkwell

hua mein low table

hua mein potion sack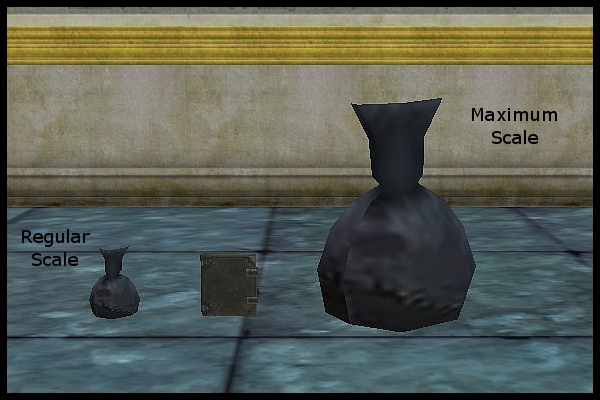 a bamboo plant

hua mein traveler statue 2

hua mein gilt banner*

Created: 2010-02-08 09:57:04
Last Modified By: Niami Denmother
Last Modified on: 2010-12-07 05:40:50
---
© 2003-21 Niami Denmother.
The fine print. This is a research and information site. All of the information on this site has been gathered and submitted by the players and Niami Denmother. While we try our best to keep the information here as accurate and up to date as possible, rely upon it at your own risk. By submitting information and graphics to this site, you are granting us permission to use the materials in any way that we deem appropriate. EverQuest is a registered trademark of Darkpaw Games LLC. Except as is disclosed on the "about" page, this site has no official connection with EverQuest or Darkpaw Games LLC. All information, articles and graphics on this site are the copyright of EQ Traders Corner, its owners and/or Darkpaw Games LLC and may not be copied or reprinted without the express written approval of the copyright holder. This site is not meant to represent official EverQuest (Darkpaw Games) policy, and we are not responsible for errors and/or omissions that occur due to changes in EverQuest trade skills or information that we recieved from the community that is in error.
Hosted By: