Frostfell 2018 will run on ALL servers from after the patch on December 4, 2018, until the downtime on the morning of January 8, 2019. (This is a change in the end date from Jan. 3 until Jan. 8, because a server downtime is required to start and to end Frostfell.) In addition to returning quests and recipes, there is a new round of Frostfell recipe books, plus new vendor items, new gifts from Santa Glug, and one new quest.
With apologies, there will be no story to go with this event. My muse seems to be on vacation. ~Mum
How to Access the Event
If you are new to Frostfell, or simply feeling a bit brain-fogged, the main Frostfell hub, the Frostfell Wonderland Village, is available from every home city via a magic cabinet. There is quite a bit to see and do in there, and I recommend that you visit the wiki for details on the quests. If you have a lot of alts that you want to run through the event, you might also want to download Casdoe's quest trackers. (Frostfell Quest Tracker in XLS format and Frostfell Quest Tracker in pdf format.)
Make sure to clear out a bunch of bag space - or make room for one Frostfell shopping bag from the vendor, and some extra room in another bag or two not only for the overflow from that bag, but also for the items that you craft, gifts from Santa, quest rewards, etc. If you forget to unload before you head in, there is a banker at the top of the zone, near the entrance.
ALL VENDORS MENTIONED BELOW OTHER THAN THE 12 DAYS OF FROSTFELL VENDOR ARE LOCATED INSIDE THE FROSTFELL WONDERLAND VILLAGE.
New Crafted Items
There are three new recipe books available from Giddlenerf, Guhtosle, Giggawat, and Garsleblat: "Frostfell Outfits You Can Make XI", "Frostfell Feasts and Decorative Crafts XI", and "Scholarly Pursuits for a Festive Frostfell XI". These recipes, as with all other Frostfell recipes, require special Frostfell harvests from the Frostfell Wonderland Village and/or from your upgraded pack pony. They will also require special fuel, and will need to be crafted on Frostfell crafting equipment (either the equipment in the Frostfell Wonderland Village, or from the quested home Frostfell crafting stations. (As a quick refresher on harvesting in the Frostfell Wonderland Village, the stacks of presents with the blue gift on top are for items from the "Frostfell Outfits" books, the stacks of presents with the red gift on top are for items crafted from the "Frostfell Feasts" books, and the single red gift nodes are for items from the "Scholarly Pursuits" books.)
Frostburn Sconce
(not a light source)
(cycling colored flames)

Frostfell Cranberry Relish

Frostfell Triple Berry Compote

Gingerbread Bed

Gingerbread Chair

Gingerbread Glass Lamp
("gentle glow")

Gingerbread Grandfather Clock
(animated hands)

Gingerbread Gumdrop Sconce
("gentle glow")

Gingerbread Nightstand

Gingerbread Rug

Gingerbread Sugar Plate

Gingerbread Table

Gingerbread Tea Cup

Gingerbread Tea Cup Stack

Gingerbread Tea Pot

Before you start thinking that the recipe count seems low, in addition to the above there is one 8-piece set of building block cutouts, 12 pieces of appearance clothing set items and 2 crowns, bringing the total count to 37 new items that can be made.
Joyous Tidings Leather & Cloth Sets (middle is cloth with collar, right is cloth hood)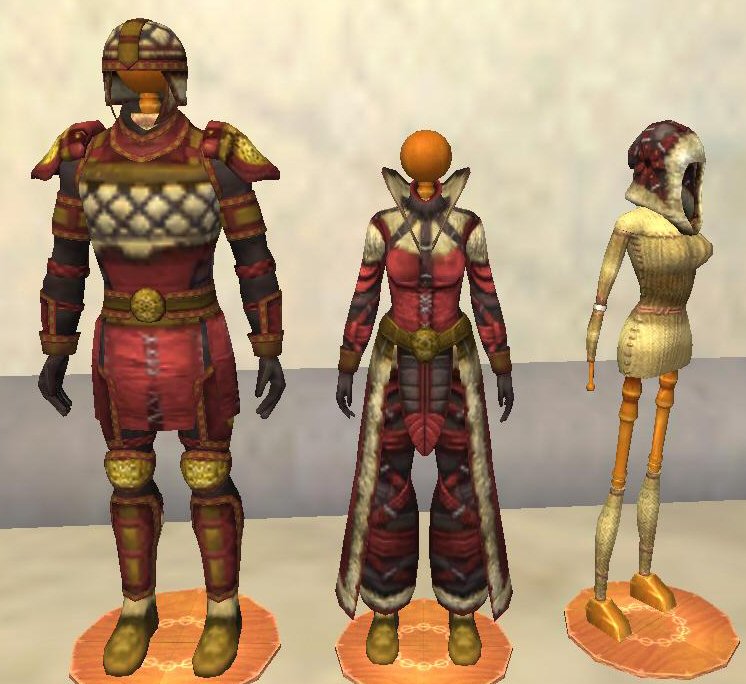 Glacier Cutouts

Mint Candy Crown and Peppermint Candy Crown

New Buyables
Gerbi Frostfoot has five new buyables for Frozen Token of E'ci.
Elder Frostbiter Basilisk
(heirloom housepet)
6 tokens

Icebite Tautara
(glider mount)
300 tokens

Shiver Me Snowpile
(character shivers when standing on it)
10 tokens

Snow Wisp Plushie
10 tokens

White Frosttail Reindeer Stag
(fluff pet)
20 tokens

"New" Buyables Round TWO!
Based on player requests, Kaitheel also made sure that Merchants Giggawat and Garsleblat have these old items items returning. The music boxes require Frozen Tokens of E'ci. The candles and the snowflake, for 6 s each had been random odd harvests from Frostfell presents, but have been removed from the harvest table and put on the vendors instead.
Faydark Melody music box (3 Frozen Token of E'ci)
Evil Dirge music box (3 Frozen token of E'ci)
Sombre Frostfell Candles (6s)
Stately Frostfell Candles (6s)
Etched Frostfell Snowflake (6s)
Santa Glug Gifts
Santa Glug can give you a random gift every 18 hours. There are 15 gifts this year, with 8 of them being new.
A Candycane Frostfell Cube
(housepet)

Blue-Striped Sentient Present
(fluff pet)

Frostfell Sweets Present

Green Velvet Loot Sack

Mint Candy Crown of Death

Petamorph Wand:
Crispy Ninja Bread Man

Tan Reindeer Plushie

Doomfire Snowglobw
(plays "Hymn of Fire")

In addition to these eight new items, the following seven items from past Frostfell events will be given out by Santa:
Sweet Dreams Cushion
Official Santa Glug Beard and Hat
Enchanted Snowman (fluff pet)
A midnight pekin (housepet)
Santa Glug Plushie
Decorative Frostfell Gift-Wrap (cloak)
Regal Gift-Wrap (cloak)
New Quest
There is one new quest this year, "Gallivanting Gifties" originating out of the Frostfell Workshop. Once you enter the Frostfell Wonderland Village, the entrance to the Workshop is directly behind the magic cabinet that leads back out into the cities. You will need to find a "self-delivering gift" bouncing around in that zone in order to start the quest. This quest rewards your choice of one of three items.
A Gift-full Frostfell Cube
(Fluff pet)

Candy Cane Crown of Joy

Peppermint Candy Crown of Gloom

Fallen Gate?
Fallen Gate gets most of the Frostfell content this year. The following quests will NOT be available, due to zone requirements:
"Little Lost Goblin" quest offered by Meg Gingersnap.
"Deepice Dreams" quest series offered by Jarith Icewing.
Gallivanting Gifties" quest started by a self-delivering gift.
Videos
Ocarinah has once again done video previews of the new items. There is a short version and a full, detailed version. Thanks, as always!
Quest Tracker?
Casdoe has updated the Frostfell quest trackers to reflect the new year and the new quest. Thanks again for that! Frostfell Quest Tracker in XLS format and Frostfell Quest Tracker in pdf format.
12 Days of Frostfell?
I mentioned near the top of the article that all merchants other than the 12 Days of Frostfell merchant were located in the Frostfell Wonderland Village, but I didn't really explain about the 12 Days of Frostfell. This is partly because we don't yet have full details on the promotion.
Here's a quick summary of what we DO know:
Santa Glug's Curious Clerk will be located in Qeynos Harbor and West Freeport, near those cities' Magic Closet that leads to the Frostfell Wonderland Village.
He will sell 3 Frostfell-themed mercenary contracts, 4 gumdrop familiars (one of which is ethereal), and one house deed.
The house, Santa Glug's Cheerful Holiday Home, consists of 3 snowglobe "rooms" (right-click the housing portal to port from globe to globe) that are placed inside of a massively oversized replica of the entry area to the old Baubbleshire Inn.
Yep, while my quick teaser video only showed the one globe, I have since learned that all 3 snowglobes are linked together on the housing portal, so you can move from counter to mantle to table. In addition, I've been told that it is "totally meant for breakout" and that the area available via breakout is larger than Antonica. Zowie!
According to what we can see on the marketplace, the coins will be earned by spending in the new "Holiday Bundle" section of the marketplace. Further information can be found here.
Created: 2018-11-17 08:04:15
Last Modified By: Niami Denmother
Last Modified on: 2019-01-02 09:13:44
---
© 2003-21 Niami Denmother.
The fine print. This is a research and information site. All of the information on this site has been gathered and submitted by the players and Niami Denmother. While we try our best to keep the information here as accurate and up to date as possible, rely upon it at your own risk. By submitting information and graphics to this site, you are granting us permission to use the materials in any way that we deem appropriate. EverQuest is a registered trademark of Darkpaw Games LLC. Except as is disclosed on the "about" page, this site has no official connection with EverQuest or Darkpaw Games LLC. All information, articles and graphics on this site are the copyright of EQ Traders Corner, its owners and/or Darkpaw Games LLC and may not be copied or reprinted without the express written approval of the copyright holder. This site is not meant to represent official EverQuest (Darkpaw Games) policy, and we are not responsible for errors and/or omissions that occur due to changes in EverQuest trade skills or information that we recieved from the community that is in error.
Hosted By: