Every six months, players will find the Neriak city festival lurking just outside the gates of Neriak, in Darklight Woods. For more details regarding the city festivals, please see the City Festival Guide.
Be very aware that Neriak gets very grumpy about good-aligned folks, and there are level 25 guards patrolling the bridges and such in Darklight Woods. It is doable for low level good folks to visit the festival (but not to farm for glowies), but you'll want to wall-hug to get to the festival, not take to the roads, and watch your step carefully.
With that obligatory warning out of the way, let's take a closer look at the items that are available for sale on the city-specific festival vendor whenever the Festival sets up outside Neriak.
March 2012 saw the addition of various building blocks and a roof tile to the Neriak offerings. September 2017 saw the addition of the eight "cutout" pieces.
| | | |
| --- | --- | --- |
| Blue Marble Column | Blue Marble Divider | Blue Marble Mirror |
| Blue Marble Pole | Blue Marble Tile | Neriak Round Counter |
| Neriak Elaborate Chandelier | Plain Green Streetlamp | Plain Red Streetlamp |
| Neriak Streetlamp | Neriak Sign | Plain Purple Streetlamp |
| Neriak Display Counter | Blue Marble Pedestal Table | Neriak Roof Tile |
| Blue Marble Block | Blue Marble Half Block | Blue Marble Railing |
| Blue Marble Rounded Tile | Blue Marble Short Column | Blue Marble Short Divider |
| Blue Marble Stair | Blue Marble Tall Column | Blue Marble Tall Divider |
Blue Marble Cutout Set (added Sept. 2017(

All of the above other than the Neriak sign, cost 2 tokens apiece. The sign costs 5 tokens, and works like a magic mouth. (Calls out a message to anyone who passes through the radius of the sign, provided the person has their filters set to show such things. alt-o > user interface > popup messages > show general messages. Limit of 50 characters for the message)
In addition, there will be a purple glowie collection available inside the city of Neriak during the course of this event. As with other city festival glowie collections, the reward for this is a city-themed mailbox:
---
A Closer Look
Blue Marble Column

Blue Marble Mirror

Blue Marble Pole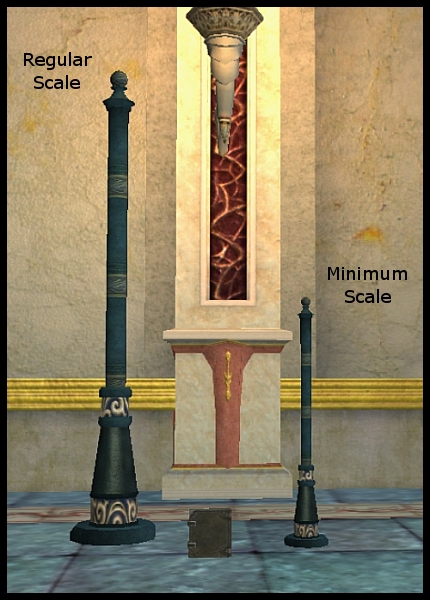 Neriak Elaborate Chandelier

Plain Green Streetlamp

Plain Red Streetlamp

Neriak Streetlamp

Neriak Sign

Blue Marble Divider

Blue Marble Tile

Neriak Round Counter

Created: 2010-03-01 08:57:39
Last Modified By: Niami Denmother
Last Modified on: 2017-09-01 01:54:26
---
© 2003-21 Niami Denmother.
The fine print. This is a research and information site. All of the information on this site has been gathered and submitted by the players and Niami Denmother. While we try our best to keep the information here as accurate and up to date as possible, rely upon it at your own risk. By submitting information and graphics to this site, you are granting us permission to use the materials in any way that we deem appropriate. EverQuest is a registered trademark of Darkpaw Games LLC. Except as is disclosed on the "about" page, this site has no official connection with EverQuest or Darkpaw Games LLC. All information, articles and graphics on this site are the copyright of EQ Traders Corner, its owners and/or Darkpaw Games LLC and may not be copied or reprinted without the express written approval of the copyright holder. This site is not meant to represent official EverQuest (Darkpaw Games) policy, and we are not responsible for errors and/or omissions that occur due to changes in EverQuest trade skills or information that we recieved from the community that is in error.
Hosted By: