Guild status and faction incentives aren't just for adventurers! Crafters may not get quite the variety of faction and status goodies as adventurers, but there are some lovely things scattered about.
Listed below are some of the various goodies for crafters that can be purchased with the proper faction and/or guild level. Note that the items tend to be No Trade.
Guild Status
There are several ways to obtain guild status points (SP), and lots you can spend the points on once you earn them. We'll just cover the items of greatest interest to crafters, however.
Your main method of gaining guild status will be by completing crafting writs (work orders or rush orders). Adventuring writs, of course, as well as the proper sale of guild status items from mobs, will gain status points, but, again, I'm mostly going to focus on the crafting side of things.
Each city will have one or more City Merchant NPCs that allow members of guilds to purchase various items with a mix of status and coin. Often, these items will also have an additional guild level requirement, meaning that your guild must be at least a certain level before you can purchase some items. (A guard should be able to point you to City Merchant, providing there is one in your current zone, so if you're having problems finding one, stop and ask a guard for directions.)
But wait, there's more! If it was just that simple, I'd just point you to a City Merchant and be done with it.
Each of the major factions (priests, mages, fighters, scouts, crafters) within your home city also have their own faction merchant, at which you can buy items for a mix of SP and coin, based on the amount of faction you have with that group. Faction is earned by performing writs for that specific group, so four of the five faction groups require combat. These faction merchants are found in the same area as the writ-givers for that faction, so, for the crafting ones, look around your city's main crafting society for a merchant offering items. (NQ - Ironforge Exchange, WFP - Coalition of Tradesfolk, and in the main crafting area for the other three cities.)
Once you have the whole guild, guild level, faction and status thing sorted out with regard to where the items are that you want to buy, you'll find that you will have an easier time finding the right NPC.
Home Crafting Stations
There are two sets of crafting stations for sale on the city merchants and crafting merchants which can be purchased and placed in your home. Before you get too excited by seeing the "Simple" tradeskill stations for sale on one of these merchants, there are a few things to note.
While these are furniture items that can be placed in your home, and they are functional, there's a catch. The "Simple" ones that are available to anyone in any level of guild (cost: 1g 11s 64c and 6125 status) were used to make crude-only items, and are now really only for show. The "Elaborate" versions that can make pristine items are only available if your guild is level 25 or above (cost 87g 44s 80c and 492,805 SP). If you buy these from one of the crafting societies instead of from a City Merchant, instead of the guild level requirements, you will be required to have at least 10K faction with that society in order to purchase the Simple version, and 30K faction with that society for the Elaborate version.
Like most status/faction-purchased items, these will be No Trade, but can be placed in someone else's home if you have trustee access.
Crafter-ish Dress Clothes
There are five sets of dress clothes with a crafter theme with regards to look and name. The Tradesman set is available at any city merchant at guild level 1. The other four sets are split with two sets for good cities, two sets for evil cities, and are available on the crafting faction merchants in the crafting societies. More details on these clothing sets, and the faction/cost requirements for obtaining them can be found in the City Faction Satus Clothing guide.
Crafting Faction
Faction with your home crafting society is obtained by completing crafting writs (work orders or rush orders) with your home tradeskill society. In order to earn crafting society faction, you must be performing wirts from your home city's crafting society. While there is nothing stopping you from visiting a like-factioned city (such as a Qeynos resident visiting Kelethin) and performing crafting writs for them, you will only earn guild status from them, not faction. Note that if you betray, you lose the ability to gain faction with your old home city and must begin all over with building up faction with the crafting society in your new home city.
For each successfully completed (untimed) work order, you will gain 100 faction. For each successfully completed (timed) rush order, you should gain 150 faction. Your current crafting faction will be under the faction tab on your persona page, under Shattered Lands for Qeynos/Freeport/Neriak, under Faydwer for Kelethin, and Kunark for Gorowyn. These faction amounts are in addition to the guild status (SP) that you will earn for completing the writs.
Crafting Faction House Items
Members who are in good standing (i.e., have sufficient faction) with their crafting society can purchase several house items. The items available will vary by society, with a few items that are available through all of them. Faction requirements indicate the faction needed with that crafting society in order to purchase the item in question
Note that the work order clipboard only allows you to find your work order once you have received the task from the NPC. Therefore, while it technically allows you to run writs in your home, you still have to run to the NPC, receive the work/rush order, run home to your clipboard to obtain the details on the items to craft (and start any timer), then run back to the NPC to hand it in. Um. Right. Much extra running. Consider it just another ornamental piece of furniture, k? :)
All Crafting Societies

Work Order Clipboard
Rent Reduc: none
Faction req: 10K
coin cost: 6g

a long stone corner counter
Rent Reduc: none
Faction req: 40K
Cost: 20K SP, 6 gold

a ornate globe of Norrath
Rent Reduc: none
Faction req: 40K
Cost: 10K SP, 30s

Handbook of the ____
(name matches society name)
no rent reduction
cost: 1 copper


Academy of Logistics (Gorowyn)

a small candelabra
Rent Reduc: 50
Faction req: 10K
Cost: 10K SP, 12s

engraved mirror
Rent Reduc: 500
Faction req: 30K
Cost: 30K SP, 19g 55s 87cs


Coalition of Tradesfolke (Freeport)

a freeport fire pot
Rent Reduc: 39
Faction req: 10K
Cost: 10K SP, 30s

a merchant display cart
Rent Reduc: 41
Faction req: 10K
Cost: 10K SP, 30s

a neriak display stand
Rent Reduc: 42
Faction req: 10K
Cost: 10K SP, 30s

an ancient ark
Rent Reduc: 63
Faction req: 20K
Cost: 20K SP, 1g 20s

a wailing bone cage
Rent Reduc: 110
Faction req: 30K
Cost: 30K SP, 4g 80s


Dark Barginers (Neriak)

an Indigo Brotherhood banner
Rent Reduc: 50
Faction req: 10K
Cost: 10K SP, 12s

a Darklight crystal
Rent Reduc: 500
Faction Req: 30K
Cost: 30K SP, 19g 55s 87c


Ironforge Exchange (Qeynos)

an erudin crucible
Rent Reduc: 50
Faction req: 10K
Cost: 10K SP, 30s

an ornate display case
Rent Reduc: 50
Faction req: 10K
Cost: 10K SP, 30s

an ornate collection box
Rent Reduc: none
Faction req: 20K
Cost: 20K SP, 1g 20s

an ornate mirror
Rent Reduc: 500
Faction req: 30K
Cost: 30K SP, 19g 55s 87cs


Tunare's Pages (Kelethin)

Flower of Growth
Rent Reduc: 50
Faction req: 10K
Cost: 10K SP, 12s

a forest archway
Rent Reduc: 500
Faction req: 30K
Cost: 30K SP, 19g 55s 87cs


Ravens of the North (New Halas)

Carved Wooden Crate
10K faction

Small Display Case
10K faction

Stone Inlaid Counter
30K faction

A Chiseled Mirror
30K faction

Faction Recipes
The no-trade book "Display Stands for All Occasions" is sold by all crafting societies to their crafters who have obtained at least 30K faction with them. This book contains recipes for mannequins. Additional information and images can be found on the Mannequins Furniture Gallery Page
The Achievement Ability (AA) house respecialization item recipe scroll, "Reflections of the Grandmasters", is sold at the crafting society faction merchants in each city to those crafters who have obtained at least 40K faction with that crafting society. (Note that while the item created by the recipe is no trade, as is the recipe, it can be crafted for other players using the tradeskill commission system.)
Mirror of Reflected Achievements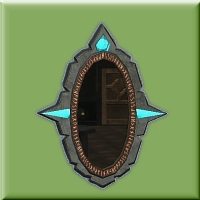 Crafting Faction Prefix Titles
Prefix titles (that go before your name), unique to each society, can also be purchased at the various faction ranks. Your purchase includes not only the title, but also a scroll house item that proudly announces your accomplishment to those who visit your home.
Qeynos: Ironforge Exchange
1st Title : Crier - 10K faction. Purchase: 20,000 SP, 15g 36s
2nd Title : Envoy - 20K faction. Purchase 30,000 SP, 61g 44s
3rd Title: Commision Deputy- 30K faction. Purchase 40,000 SP, 2p 45g 76s
4th Title: Factor - 40K faction. Purchase 50,000 SP, 3p 68g 64s
Freeport: Coalition of Tradesfolke
1st Title : Courier - 10K faction. Purchase: 20,000 SP, 15g 36s
2nd Title : Interagent- 20K faction. Purchase 30,000 SP, 61g 44s
3rd Title: Commisioner - 30K faction. Purchase 40,000 SP, 2p 45g 76s
4th Title: Racketeer - 40K faction. Purchase 50,000 SP, 3p 68g 64s
Kelethin: Tunare's Pages
1st Title : Apprentice Liason - 10K faction. Purchase: 20,000 SP, 15g 36s
2nd Title : Journeyman Liason - 20K faction. Purchase 20,000 SP, 61g 44s
3rd Title: Expert Liason - 30K faction. Purchase 20,000 SP, 2p 45g 76s
4th Title: Master Liason- 40,000 Faction. Purchase 20,000 SP, 3p 68g 64s
Neriak: Dark Bargainers
1st Title : Bargain Hunter - 10K faction. Purchase: 20,000 SP, 15g 36s
2nd Title : Facilitator - 20K faction. Purchase 20,000 SP, 61g 44s
3rd Title: Trafficker- 30K faction. Purchase 20,000 SP, 2p 45g 76s
4th Title: Acquisitions Expert- 40K faction. Purchase 20,000 SP, 3p 68g 64s
Gorowyn: Academy of Logistics
1st Title: Stockworker - requires: 10K faction; costs: 20,000 SP, 15g 36s
2nd Title: Supplytender - requires 20K faction; costs: 20,000 SP, 61g 44s
3rd Title: Secondary Purveyor - requires 30K faction; costs: 20,000 SP, 2p 45g 76s
4th Title: Prime Purveyor - requires 40K faction; costs: 20,000 SP, 3p 68g 64s

New Halas: Ravens of the North 1st Title: Settler (10K faction)
2nd Title: Rebuilder (20K faction)
3rd Title: Peregrine (30K faction)
4th Title: White Raven (40K faction)

Created: 2004-11-19 08:54:11
Last Modified By: Niami Denmother
Last Modified on: 2020-07-22 11:56:16
---
© 2003-21 Niami Denmother.
The fine print. This is a research and information site. All of the information on this site has been gathered and submitted by the players and Niami Denmother. While we try our best to keep the information here as accurate and up to date as possible, rely upon it at your own risk. By submitting information and graphics to this site, you are granting us permission to use the materials in any way that we deem appropriate. EverQuest is a registered trademark of Darkpaw Games LLC. Except as is disclosed on the "about" page, this site has no official connection with EverQuest or Darkpaw Games LLC. All information, articles and graphics on this site are the copyright of EQ Traders Corner, its owners and/or Darkpaw Games LLC and may not be copied or reprinted without the express written approval of the copyright holder. This site is not meant to represent official EverQuest (Darkpaw Games) policy, and we are not responsible for errors and/or omissions that occur due to changes in EverQuest trade skills or information that we recieved from the community that is in error.
Hosted By: